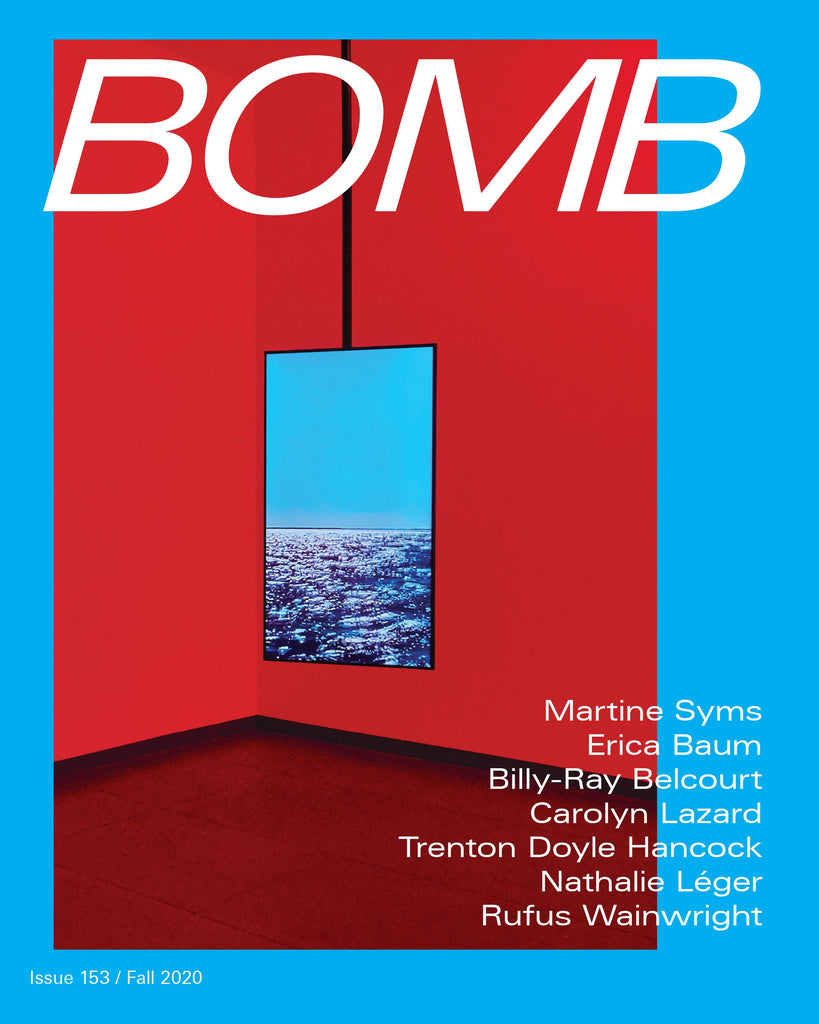 BOMB 153 / Fall 2020
$4.00
INTERVIEWS

ART - TRENTON DOYLE HANCOCK
by Bill Kartalopoulos

ART - MARTINE SYMS
by Steffani Jemison

MUSIC - RUFUS WAINWRIGHT
by Rakesh Satyal

LITERATURE - BILLY-RAY BELCOURT
by Layli Long Soldier

ART - ERICA BAUM
by Rajesh Parameswaran

LITERATURE - NATHALIE LÉGER
by Amanda DeMarco

ART - CAROLYN LAZARD
by Catherine Damman


FICTION

Little Beast by C Pam Zhang
Four Stories by Kevin Brockmeier
from The Caretaker by Doon Arbus


POETRY

Three Poems by Stephanie Jean
Winner of BOMB's 2020 Poetry Contest, selected by Simone White
Four Poems by Yi Sang
Soliloquy by Vijay Seshadri


NONFICTION

Some Thoughts on Diaspora and Hybridity by Lorraine O'Grady
Droplets by Paula Mónaco Felipe


COMIC

May We Be Changed by Lale Westvind


PORTFOLIO

by Macolm Peacock


PROJECT

by Garrett Bradley


EDITOR'S CHOICE

Vivian Vázquez Irizarry and Gretchen Hildebran's Decade of Fire
by Roya Marsh

Ludwig Wittgenstein's Word Book
by Corina Copp

Lafawndah's The Fifth Season
by Lily Sperry

Andrés Jaque and Ivan Munuera's The Transscalar Architecture of COVID-19
by Alex Tell

Rainald Goetz's Rave
by Shivani Radhakrishnan

Josephine Decker's Shirley
by Lincoln Michel


On the cover: Installation view of Martine Syms, Ugly Plymouths, 2020, at Sadie Coles HQ, London. Photo by Mario de Lopez. Courtesy of the artist and Sadie Coles HQ, London, and Bridget Donahue, NY.